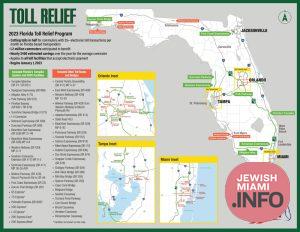 1.1 Million Eligible SunPass Users Saved Nearly $35 Million During the Month of February
The Florida Department of Transportation (FDOT) today announced the February Toll Relief Program savings for eligible SunPass commuters. During the month of February, Florida's commuters saved nearly $35 million in tolls, bringing the total savings for the first two months of the program to more than $70 million. These savings impacted nearly 1.1 million commuters and their families. The year-long program automatically gives customers with at least 35 monthly toll transactions a 50 percent credit to their account.
"Millions of Florida commuters continue to feel the immediate impacts of the Toll Relief Savings Program that Governor DeSantis signed into law last December," said Florida Department of Transportation Secretary Jared W. Perdue, P.E. "With more than $70 million in savings in just two months, it's evident that the program is already a success in helping Florida families with real relief. FDOT is proud to be part of the solution."
The Toll Relief Program runs through December 31, 2023, and is expected to provide at least 1.2 million drivers with average savings of nearly $480 over the course of the year. The Toll Relief Program is administered by FDOT's Florida's Turnpike Enterprise and includes SunPass as well as other Florida-based tolling agency partners throughout the state. Customers are encouraged to ensure their transponder is properly mounted in the vehicle and their account is in good standing.
A map of included toll facilities in the Toll Relief Program can be found here.