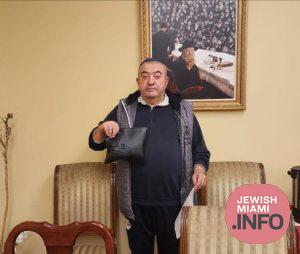 A Bone Marrow Donation, Teffilin, and Lots of Hashgacha Pratis
Builder and Project Manager Mr. Mark Bamberger published this amazing story on social media of his Bone Marrow Donation, and how if you connect the dots, the Hasgacha Pratis begins to unfold.
Why would you send a car service from Brooklyn NY to bring someone from Lakewood NJ to Hackensack NJ?
On October 26th & 27th 2021 I had the incredible opportunity to donate stems cells to patient via Gift of Life Marrow Registry.
GOL sent a car service from Brooklyn to pick me up at 5:45 am to get me to the hospital by 7:00.
I was wondering why they sent a car from Brooklyn but then I got the answer.
As an Orthodox Jew I pray every morning with Tefillin (Google it).
The prayers can only begin at a specific time. Therefore, on that morning I needed to pray in the car.
I turned to my driver, Boris and told him that I'm going to put on my tefillin and pray.
After I finished praying he tells me he is Jewish and asks me how much a pair of tefilin costs.
I told him you can get a pair starting at around $500.
He says "Oh wow that's a lot of money"
I told him, if you want a pair to put on daily I will buy them for you as a gift.
After some thought, he agreed.
I reached out to my cousin Mendel Weingarten who put me in touch with his brother Zalman in Brooklyn and with their help a few weeks later we had a brand new pair of Tefilin.
Then came the hard part.
Boris was busy at work, then he was out of the country… We tried for almost a year to arrange a time to give Boris his Tefilin.
Fast forward…
Last Thursday I received a call from Gift of Life Marrow Registry to inform me that unfortunately the anonymous recipient of my stem cell donation had passed away two months after the transfusion.
I was pretty down about it.
Then the good news came.
Yesterday, exactly one year to the day from when I first met Boris we were finally able to arrange for him to receive his Tefillin.
Connect the dots.
In other news after my GOL donation my cousin Mendel was inspired to do a swab drive at University of Washington and a donation match was recently made from that drive.
More connected dots.