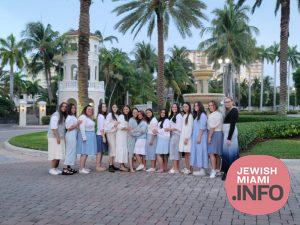 A Chaya Aydel Seminary Student Shines At Graduation
by Tzivia Klein
Covid hit me like a ton of bricks. Just when I found my stride, with my solid group of friends and I was looking forward to the culmination of my education, graduating from High School- it all seemed to fall apart.
I was stuck in my home with very little interaction with the outside world. I knew I had to be careful to keep my immune compromised brother safe, but the toll of being isolated was immeasurable.
I was losing my grip on my Chayus for learning and growth. I couldn't find the joy in Torah and Mitzvos that I held so dear. I was feeling desperate for connection.
When the acceptance email arrived from Chaya Aydel Seminary, it felt as though the spark in my neshama had been rekindled. I couldn't have imagined how this small spark would soon be fanned into an enormous fire, in the right environment.
As soon as I arrived at Chaya Aydel, I felt supported and heard. The staff was so attentive and busy making sure I felt safe and comfortable.
Each class was so engaging. I never felt like I had to fit into some kind of mold. I was loved and cherished as an individual, who was encouraged to participate in discussions and share my thoughts.
My teachers became my role models, my confidants, my mashpias and my friends.
At Chaya Aydel, I was provided not only with top notch teachers and classes. My days were filled with exciting activities and trips, that helped all of us bond and really become a family.
On top of that, we had weekly inspiring farbrengens, special guest speakers, chesed with local families, and we were invited to join in community events.
Now that I am home, I look back on my experience at Chaya Aydel and it brings tears to my eyes and joy in my heart. I have so much Hakaras hatov for the staff for giving me such a year filled with opportunity and growth. My fire is relit and shining bright. Anytime I feel the need for a "refuel", I am confident I can look back on all I learned from my experiences at Chaya Aydel to keep that fire alive.
Principal of the Seminary is Rabbi Yossi Lebovics. Assistant Principal is Mrs Shana Wolf. Dean of CAS is Rabbi Raphael Tennenhaus.
To register for the Chaya Aydel Seminary, starting its 21st year on Tuesday, September 6, please call 954-826-7979 or email Chayaaydelseminary@gmail.com.