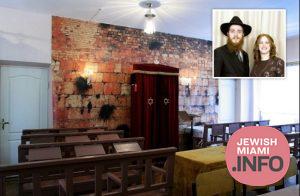 After Escaping Ukraine, Chernigov's Chabad Shluchim to Arrive In Miami
by JewishMiami.info
Rabbi Yisroel and Aliza Silberstein the shluchim to the city of Chernihiv, Ukraine, managed to escape the chaotic mess that has become of Ukraine, and after nearly a week of travel, will be landing at Miami International Airport.
Chernihiv, located North of Kyiv at the Russian and Belarus Border, quickly became a hotspot of military action, creating an untenable situation for the thousands of Jews living in the city.
Along with a group of community members, the Chenigov Shluchim made the harrowing journey to the Moldovan border, and after boarding a flight in Istanbul, Turkey, they will be landing tonight, Tuesday, in Miami.
A message being passed around social media asked that those able should make their way to the airport to welcome them. The plane is scheduled to land at approximately 9:30pm and should be passed customs by approximately 10:00pm.