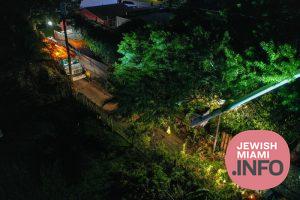 After First Full Day of Restoration, FPL has Restored Power to Two-Thirds of Customers Affected by Hurricane Ian
After the first full day of restoration, Florida Power & Light Company (FPL) has now restored power to two-thirds of customers affected by Hurricane Ian – one of the most powerful and destructive hurricanes to ever make landfall in Florida.
The company's massive restoration effort continued overnight and into Saturday morning with a total workforce of more than 21,000 men and women – including mutual assistance from 30 states – supported by 26 staging, parking and processing sites. FPL has zeroed in on the hardest-hit areas by strategically positioning and rapidly deploying crews and equipment to restore power safely and as quickly as possible.
As of 10 a.m., FPL has restored power to 1.4 million customers and remains focused on restoring the approximately 699,000 customers currently without power, prioritizing immediate efforts on critical infrastructure functions that serve community needs, such as hospitals and 911 centers.
"The lives of so many of our fellow Floridians have been changed forever and we know they are counting on us to get the lights on – a critical first step in restoring a sense of normalcy in our devastated community," said Eric Silagy, chairman and CEO of FPL, who is set to spend a third straight day on the ground in Southwest Florida. "Floridians are resilient and I have no doubt we will get through this together. The road ahead is challenging, but we won't back down and we won't stop working until every customer is restored."
In addition to the crews who have restored power where possible to 1.4 million customers, damage assessment teams fanned out across Florida continue to survey the inaccessible portions of communities to determine the extent of the damage, particularly in Southwest and Central Florida, as ground assessment has proved challenging due to flooding and major road closures. In fact, FPLAir One – the company's fixed-wing drone – completed its first surveillance mission Friday over some of the hardest hit areas of the west coast of Florida. With another mission scheduled Saturday, FPLAir One is set to gather even more information vital to FPL's ability to put the right crews and the right equipment in the right places to restore power safely and as quickly as possible.
For nearly two decades, FPL has invested significantly in building a stronger, smarter and more storm-resilient energy grid. While no energy grid is hurricane-proof, detailed assessments following Hurricane Ian have confirmed the resiliency of FPL's storm-hardened energy grid:
FPL's transmission system: The backbone of any electrical system, transmission lines carry high-voltage electricity from power plants to substations. FPL did not lose a single transmission structure during Hurricane Ian.
Underground power lines: FPL is working to systematically underground neighborhood power lines, which are traditionally located in backyards and susceptible to trees and other wind-blown debris. Initial forensics show underground neighborhood power lines performed five times better than overhead neighborhood power lines in Southwest Florida, which took a direct hit from the high-end, Category 4 storm.
Restoration estimates
In the wake of a hurricane, FPL knows customers need as much information as possible in order to make decisions for their families. Every hurricane is different, but FPL's goal is to provide customers more accurate information faster than ever before. Damage assessment teams have been fanning out around the state to survey the damage and generate estimated restoration times.
The assessment process is still underway in Southwest Florida as crews navigate the extensive flooding, storm surge, downed trees and other debris in the area and roadways. Because of these conditions, FPL anticipates many customers will face prolonged outages in some areas. Many homes and businesses may have suffered extensive damage that makes them unable to safely accept power. As Ian slowly moved inland and cut through the state at hurricane strength, it pounded areas with torrential rain and damaging winds.
Some areas along Florida's east coast, particularly Volusia County, remain inundated with flood water due to the excessive rainfall. FPL has deployed significant resources in the area committed to restoring power safely and as quickly as possible.
FPL Estimated Time of Restoration
Status
County
Essentially Restored
Baker, Bradford, Broward, Clay, Columbia, Hardee, Miami-Dade, Monroe, Nassau, Palm Beach, Suwannee, Union
95% by end of dayToday, Oct. 1
Alachua, Indian River, Martin, Putnam, St. Johns, St. Lucie
95% by end of dayTomorrow, Oct. 2
Brevard, Okeechobee
95% by end of dayTuesday, Oct. 4
Flagler, Seminole, Volusia
Most customers without power to have service restored ahead of time listed above
To be provided Today, Oct. 1
Charlotte, Collier, De Soto, Glades, Hendry, Highlands, Lee, Manatee, Sarasota
Immediately after a storm, FPL knows if main power lines have been damaged. If customers believe their power is out for this reason, there is no need to contact FPL. Customers should call 911 or FPL at 1-800-4OUTAGE (1-800-468-8243) only to report dangerous situations such as downed power lines or sparking electrical equipment. Customers can report an outage at FPL.com/Outage or on the FPL app.