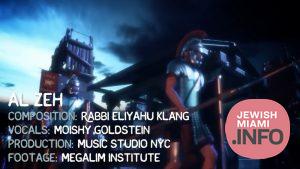 "Al Zeh" A Heartfelt Tisha B'av Song
Listen to a heartfelt, acapella rendition of the sad words of Eicha describing the destruction of the Beis Hamikdash.
Composition: Rabbi Eliyahu Klang
Vocals: Moishy Goldstein
Production: Music Studio NYC
Footage: Megalim Institute
"As I was reading Eicha last night," Moishy Goldstein relates, "I encountered these words and remembered the heartfelt melody as sung by Avraham Fried (in 1987). When I came home I decided to record an acapella version fit for Tisha B'av. So what you hear is a product of Tisha B'av from start to finish."
The song first appeared in the record "Pirchei Sings Ani Maamin" released in 1968.