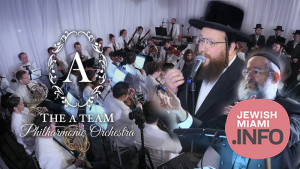 Ani Maamin With the "A Team" Philharmonic, Featuring Shloime Daskal and the Yedidim Choir
The A Team Philharmonic Orchestra presents: Ani Maamin Featuring Shloime Daskal accompanied by Yedidim Choir.
The ansaoumble was directed by Avremi G, who writes "I love music. I love Jewish music. And I love arranging/orchestrating. The bigger the orchestra, the better. I have been writing for Yitzy Shwartz's 'The A Team' for the last several years. Yitzy has a discerning ear and has always pushed me beyond my self imposed, perceived limitations. Chupahs is one area where 'The A Team' shines. For the discerning customer, the instrumentation of most chuppah performances has followed, for the most part, the same formula. Piano, flute, flugelhorn, French horns, and a string section of varying sizes. It always works, and is always beautiful. For this particular event, Yitzy approached me about doing something a little different. He had a customer who has a nuanced musical ear, and expressed that he would like something a little more dramatic and colorful. We settled on adding a full woodwind section consisting of 2 flutes, 2 oboes, 2 clarinets and 2 bassoons. The possibilities in terms of range and color one can achieve when writing for a woodwind section this size are plentiful and always interesting. For those that want to learn more about writing for woodwinds, google the 4 main devices of WW orchestration. Namely, Juxtaposition, Interlocking, Enclosure and Overlapping. Lots of possibilities – I simply love writing for the woodwind section. We also added a timpanist who doubled on glockenspiel. Combining woodwinds with French horns and a string section are ideal for getting that perfect Chuaph sound. I think the result speaks for itself.
Working with Shloime Daskal is a privilege. He is one of the best. An amazing singer and a pleasure to work with. I know this tune, Ani Maamin, means a lot to him.
Together with the amazing Yedidim choir (always an important component), it added up an ensemble of 32."
Credits:
Produced by: Yitzy Schwartz/A Team Orchestra
Arranged & Conducted by: Avremi G
Music by: A Team Philharmonic Orchestra
Live & Post Mixed by: Baba z Burger
Video by: Engel Studios & Ben Hesh Studios
Video Edited by: Leiby Weider – Studio 62
Production Manager: Motty J
Marketing: I & Me Media