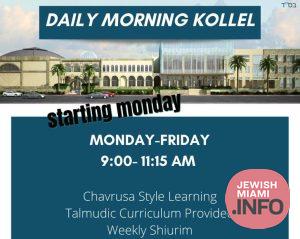 Bal Harbor Shul Launches New Daily Kollel
by JewishMiami.info
Get a taste of your Yeshiva years again with the launch of a new daily Kollel program at the Bal Harbor Shul on Collins Ave.
The new program aims to encourage Shul members to come for Chavrusa style learning every morning from 9:00am until 11:00am.
"This is a wonderful opportunity to add some Torah every day and to recapture some of the exciting learning of our Yeshiva days," the shul wrote. "Refreshments will be available daily."
Part of Chabad-Lubavitch, The Shul has been a vital part of the Greater Bal Habour Community for over the past 30 years. Led by Rabbi Sholom Lipskar, Emissary of the Lubavitcher Rebbe, his approach is one of warmth and time-tested wisdom.
For more information, please contact Rabbi Dov Schochet at 305-790-8294 or email dschochet@theshul.org