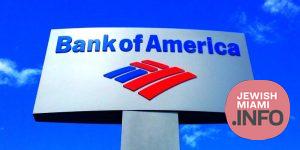 Bank of America Slashes Overdraft Fees to $10
by JewishMiami.info
Bank of America customers can now give a small sigh of relief as the major banking giant announced that it will be slashing overdraft fees to just $10.
"This is the final step in the journey we've been on," said Holly O'Neill, president of retail banking at BofA, in an interview. "We have good financial solutions for clients without them having to rely on overdraft, but we will still have overdraft if it is needed."
The change is a rather big one, with fees going from $35 to $10 starting in May of this year.
Other changes are also in the works, including the elimination of bounced check fees
According to the Associated Press, the bank is also eliminating two smaller fees, including a $12 fee it charged customers when the bank automatically moved money from one account to another to cover an overdraft.