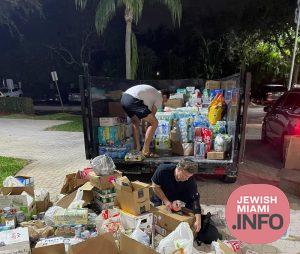 Boca Community Rallies Assistance For Hard Hit Areas Of Florida
by JewishMiami.info
It only took one text.
Rabbi Efrem Goldberg of the Boca Raton Synagogue sent just one text to the Vaad of Boca, and an army of volunteers put together a a truck brimming with aid for the hard hit areas of Florida.
"Couldn't be prouder to be part of the greater Boca community," Rabbi Goldberg said. "1 text to the Vaad of Boca & all the shuls mobilized to collect needed items & sent 1,100 meals up to our neighbors devastated by the storm."
Food, diapers and sanitary products were stacked into a truck and staffed by volunteers in preparation for the multi-hour rive across the state where many communities have been devastated by Hurricane Ian.
Requests for needed supplies quickly piled up as the state and Jewish communities struggled to recover after one of the strongest storms to ever hit Florida.
"Community matters. It means something. And it is mobilized to help when a crisis hits," Goldberg said. "Thanks Josh Broide for leading the charge."
Boca, as well as other Jewish communities in South Florida, have rallied to the cause, providing the much needed aid through grassroots donation drops and online fundraising.