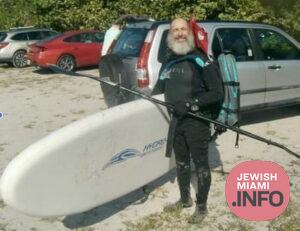 BDE: Search Underway For Jewish Man Missing Off Miami Beach
by JewishMiami.info
Update: 67-year-old Howard Sal was found deceased soon after the search began. BDE
The Coast Guard has announced that it is actively searching for a Jewish man missing off the coast of Miami. The community is asked to please say Tehillim.
According to reports, 67-year-old Howard Sal, a Jewish Doctor, had gone free diving off of Hollywood beach Thursday but never returned.
He was last seen wearing a a black wetsuit using a white paddleboard. The Coast Guard has released a picture of Sal for publication.
Anyone with more information call Sector #Miami @ 305-535-4472