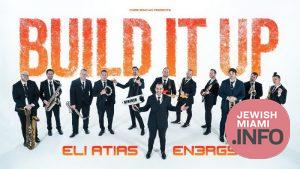 BUILD IT UP! – EN3RGY with Eli Atias
EN3RGY is all about bringing audiences something new, something fresh, something different. In this captivating music video you've got all of that – and then some!
The EN3RGY Team teamed up with the very talented Eli Atias, witness his dazzling vocals blend with the energetic melodies and show stopping arrangements. Oh, and did we forget to mention the spectacular cinematic experience you are about to witness? Just wait for that build up… We won't spoil it for you – simply hit play!
Songs: 1) Od YIshoma – Boruch Sholom 2) Hinei Elokeinu – Shwekey 3) Mi Yemalel – Zanvil Weinberger 4) V'atah Omartah – Chabad 5) Lo Savoshi – Traditional 6) Mazal – Moshe Tischler
Credits: Sung by Eli Atias Music by En3rgy/ChaimBokchin Producer, Arranger And Guitarist Chaim Bokchin Drums – Yechiel Bokchin Keys, Ableton Programming – Jacob Spadaro Bass Guitar – Yaacov Weiner Saxophones – Joe Natalie, Drew Vanderwinkle and Geoff Vidal Trumpets – Kai Sandoval and Nolan Tsang Trombone – David Whitwell Percussion – Jonathan Gomez