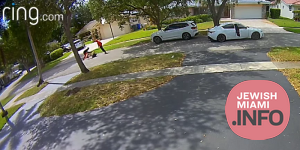 Carjacking in Emerald Hills Caught on Camera
by JewishMiami.info
A car jacking in Emerald Hills was caught on come camera Friday morning, shocking the local community.
Emerald Hills, located in the Jewish area of Hollywood, is a sought after community shaken at the blatant crime.
The video shows the cars owner as he walks to his vehicle on 36th Pl in Emerald Hills and is approached by two men. The men had exited from a white sedan, and began grappling with the cars owner, eventually forcing the cars keys from his had.
The two carjackers then jump into the victims BMW SUV as the white sedan speeds off. While the owner attempted to stop the car, the carjackers drove went around the owner and drove off.
The victim of the carjacking has been identified as victim has been identified as 72-year-old Gene Shendov from North 36th Place.
The carjacking is under investigation by the Hollywood Police Department.
Watch the Video Here