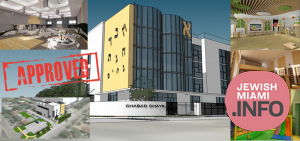 Chabad Chayil of North Miami Beach Closes On Building Loan, Set To Build Multi Million Dollar Center
by JewishMiami.info
Chabad Chayil in North Miami Beach, run by Rabbi Moishe and Laylah Kievman, has announced that they are closing on a construction loan as they move ahead on a 10 Million Dollar project for a new Chabad Center.
The five-story building, which will host a multitude of programs including CHAP, cKids, cTeen, GROW, a Hebrew School, and the Dovid Bryn Library, was granted construction permits by Miami-Dade County in January of 2021.
"Great news! We just signed the loan documents to take us to the finish line," Chabad Chayil posted this week on their Facebook page. "We thank Bob Stok and his team at Stok, Kon & Braverman, for reviewing and handling the closing as well as all the construction contracts, all pro bono!"
With over 36,000 square feet of indoor space and 10,000 square feet of rooftop park and terraces, the new building is being touted as a gem for the community, allowing the Chabad center to expand its current programming and services to include a preschool and other extracurricular activities.
Dedications for the multi-million dollar project are still available as they prepare to break ground.
To donate or give a dedication: Click Here