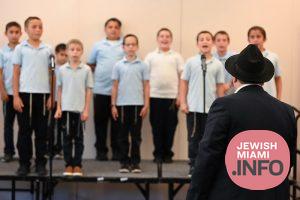 Cheder Chabad Florida End of Year Boy's Program
"Wow! These kids learnt so much this year!"
Again and again this was repeated as parents, families, and friends took part in the Cheder Boys End of Year Program. As the school year came to a close, students had the opportunity to showcase their extensive learning and accomplishments from throughout the year.
The program began with a beautiful choir featuring our very own talented soloists.
We were captivated while our Kitah Beis boys presented the wide depth and great strides they had made in Chumash class. Kitah Gimmel and Daled's 3D models of the Beis HaMikdash, Mishkan, and Avoda of the Kohen Gadol, were fascinating and artistically incredible!
Kitah Hey and Vov's video highlighted the skill sets and learning tools that they mastered this year, and will use for all their years of learning to come!
Lastly, Kitah Zayin and Ches took us through a brilliant journey into the Gemara they have covered through their much researched and well delivered Divrei Torah.
As one parent summed it up, "This program was simply outstanding!"