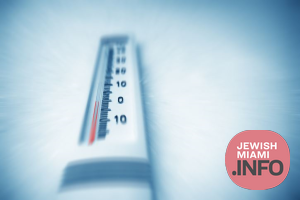 Cold Front To Freeze South Florida In the Coldest Weekend Recorded Since 2010
by JewishMiami.info
Break out those heavy coats, It's going to freeze in South Florida.
The National Weather Service has published a special weather advisory for South Florida as temperatures are expected to drop below freezing Saturday night into Sunday morning, something not seen since 2010.
"A strong cold front is forecast to move down the Florida peninsula Friday night, and move off the Southeast Florida coast during the pre-dawn hours of Saturday," the National Weather Service wrote. "Following the passage of the front, much colder air driven by gusty northwest winds will push into
South Florida and usher in the coldest temperatures of the season so far.
The much colder air which will freeze South Florida has traveled all the way from Canada, and is expected to retain it's arctic temperatures.
"As a result, temperatures on Saturday are forecast to not get out of the 50s over most of the area, and
even southern areas around Miami may struggle to reach 60 degrees under clearing skies and gusty northwest winds," the NWS warned. "This will set the stage for the coldest night and morning which
will likely be Saturday night and Sunday morning."
Current models are showing the probabilities for freezing temperatures early Sunday morning are increasing over inland Southwest Florida, primarily Glades, Hendry, inland Collier, and inland Palm
Beach County well away from Lake Okeechobee. In those areas, below freezing temperatures are to be expected, with the snap of freezing air lasting over four hours.
Other areas, such as Miami-Dade, are expected to range between 30 and 40 degrees during the early morning hours.
The cold will be made worse with winds between five and ten miles per hour, creating a wind chill that will make it feel like the lower 30 degrees.
"Another cold night is expected Sunday night and Monday morning, and although it may not be as cold as Sunday morning, freezing temperatures and frost may still be a possibility over interior areas around Lake Okeechobee," the NWS said.