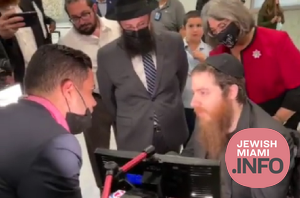 Family, Friends, and Community Members Welcome Chabad Shluchim From Ukraine
by JewishMiami.info
Rabbi Yisroel and Aliza Silberstein the Chabad shluchim to the city of Chernihiv, Ukraine, arrived at Miami International Airport Tuesday night to a large crowd of well wishers.
Family, friends, and community members were joined by members of the media and elected officials in welcoming the couple after nearly a week of travel accross the world.
"Brooklyn born Rabbi Yisroel Silberstein of Chernigov, Ukraine, Alizah Silberstein, & their nine children arrived safely in the United States this evening," Rabbi Yaakov Behrman posted on Social Media. "They arrived with one piece of luggage. He is asking everyone to pray for the safety of Chernigov."
Chernihiv, located North of Kyiv at the Russian and Belarus Border, quickly became a hotspot of military action as the war began, creating an untenable situation for the thousands of Jews living in the city.
Along with a group of community members, the Chenigov Shluchim made the harrowing journey to the Moldovan border, and after boarding a flight in Istanbul, Turkey, they landed Tuesday night in Miami.
Anticipating their arrival, a welcome committee was arranged, packing the terminal with a singing and dancing crowd.
Notable in the crowd was Miami-Dade Mayor Daniella Levine Cava, who personally assisted the Silberstein's as they arrived in the terminal.