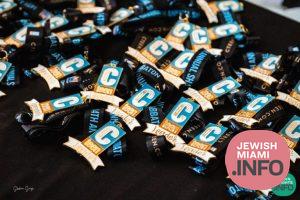 First-Ever National CTeen Summer Reunion Hosted in Miami
A large group of teens flew to Miami for a reunion that was a lot more than just a reunion.
For Chloe B., a High School senior from Virginia, the three-day weekend was a godsend. Chloe had attended CTeen's three-week Israel Heritage Quest last summer. She loved it, but hadn't counted on how much she'd miss her new CTeen friends during the school year. "It was such a pleasure to see everyone—and a great weekend getaway with lots of bonding and fun times!"
Chloe was joined in Miami by fellow teenagers from across the country, heralding from as far as Seattle on the west coast to New York up north. The first-ever national reunion was sponsored by RootOne, an organization dedicated to sending young Jewish teens to visit Israel. [RootOne provides a $3k voucher for all teens joining the CTeen Israel programs.] The first-ever national reunion was a significant success.
"This Shabbaton was the highlight of my year. I was looking forward to it so much and it exceeded my expectations in every way," shared Elizabeth Z. from Florida. The group met at the airport in Miami on Friday. From then on, it was a jam-packed weekend of learning, growth and fun. Activities included speed boating, laser tag and local tourist hotspots.
"The school year passes quickly," says CTeen Summer Director Rabbi Nachman Rivkin, "It's important to reconnect—as well as to reinspire the teens and their commitment to Judaism." Rabbi Rivkin was referring to another, more subtle goal of the reunion. Following a new partnership between CTeen Summer and Chabad on Campus International, the High School students stayed in a hotel, but a two-minute walk from Chabad at the University of Miami, where they spent Shabbat together with the college students.
"It was a pleasure to host the teens at our Chabad House on Campus," says Rabbi Mendy Fellig of Chabad at the University of Miami, "The collaboration between CTeen and Chabad on Campus has great potential, and we can't wait to see the benefit we hope it will bring for Jewish youth entering today's college scene."
"It is imperative in this day and age that we give these teenagers tools to maintain their strong Jewish identity. Connecting them with Chabad on Campus and giving them a chance to bond creates a meaningful Jewish experience that they'll remember—and bridges a gap for all their future endeavors," says Rabbi Moshe Kotlarsky, Vice Chairman of Merkos L'Inyonei Chinuch.
Rabbi Shmuli and Mushkie Lipskier of Chabad at University of Miami Undergrads, graciously hosted the entire Shabbos. During services and over Friday night dinner, teenagers met with college students affiliated with Chabad at the University of Miami. They attended workshops on leadership skills and dealing with antisemitism in a university setting. A highlight was meeting with a Holocaust survivor who shared his personal story.
"The teens came away empowered and motivated to connect with Chabad at whichever campus they attend so that they can continue to strengthen their Jewish connection," shared CTeen Summer program coordinator Sarah Sherman.
But perhaps the most meaningful part of the trip was the time spent sharing and reconnecting with each other. "I'm so grateful that we were able to come together for a beautiful Shabbaton in sunny Miami," said Stella W. from Atlanta, "It was such a wonderful opportunity to spend time with everyone before graduating and moving on to the next chapter of my life."