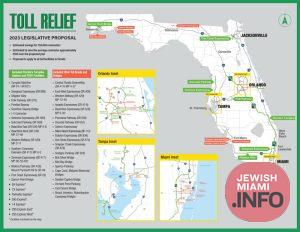 First Month of SunPass Savings Reimbursed to Drivers
Last week the first toll credits of the SunPass Savings program were posted to customer accounts. For the month of September, 361,000 drivers saved a total of $4.3 million.
"As inflation continues to rise, the SunPass Savings program helps frequent customers direct their toll savings to other important expenses," said Florida Department of Transportation Secretary Jared W. Perdue, P.E. "This six-month program provides relief to Florida families as we work to seek greater savings for commuters in the next legislative session. The Department thanks Governor DeSantis for fighting for the people of Florida, especially in times where every bit can make a difference."
"Toll facilities all over the country are raising toll prices, but Florida's Turnpike is doing the opposite. We are proud to be rewarding our loyal customers with this savings program during this time of need," said Nicola Liquori, Executive Director and CEO of Florida's Turnpike Enterprise.
The program applies to two-axle vehicles and is available to customers who use SunPass or other Florida transponders with accounts in good standing. The toll relief program provides customers with at least 40 paid transactions a month a 20% credit to their SunPass account. Customers with 80 or more paid transactions receive a 25% credit each month. The SunPass PRO® is interoperable with E-ZPass and is accepted in 19 states, with more to come.
SunPass is the prepaid electronic toll collection program operated by Florida's Turnpike Enterprise, the toll agency for the state. To learn more about SunPass please visit SunPass.com or call 1-888-TOLL-FLA (1-888-865-5352).