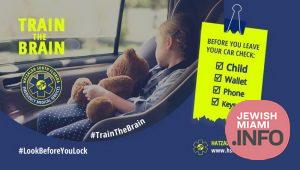 Following Tragedy, Hatzalah of South Florida Launches "Train Your Brain" Initiative
by JewishMiami.info
Train your brain, before you leave your car."
Following the tragedy that befell the Orthodox Jewish community of South Florida this week, Hatzalah has launched a new initiative aimed at preventing future tragedies.
The "Train your Brain" initiative looks to get people into the habit of checking their vehicles before leaving them, reminding people to check for any children, wallets, phones, or keys they may accidentally left behind.
In hot weather, cars can quickly become incredibly hot, making them dangerous for any children or pets left inside.
Keys or wallets left inside vehicles may also make them attractive targets for theft, a growing issue across the United States.