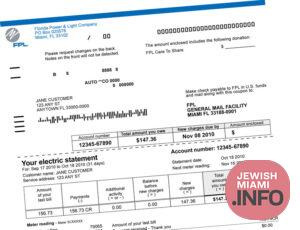 FPL Proposes Rate Hike Beginning April of 2023
by JewishMiami.info
Florida Power & Light Company has filed a proposal with the Florida Public Service Commission (PSC) to adjust customer rates beginning in April of this year to recover costs associated with two hurricane restorations and the volatility of natural gas prices during 2022. The plan, which must be approved by the PSC, seeks to balance the rate hike due to unrecovered fuel and storm costs from 2022 with a recent decline in projected 2023 fuel costs to minimize the impact on customer bills. 
If the proposal is approved, FPL's typical residential bill will increase 4-9% depending on rate class as compared to February rates, well below the national average and still the lowest among Florida's investor-owned utilities, which collectively serve more than 75% of Floridians.
Florida was hit by two hurricanes in 2022, including Hurricane Ian, one of the most powerful storms ever to make landfall in the United States. FPL restored power safely and quickly after each storm and is now seeking to recover those costs through a temporary surcharge on customer bills over a 12-month period beginning in April, subject to PSC review and approval of expenses incurred. Recovering these costs over one year rather than a longer time period reduces the risk of storm costs piling up on customer bills if there are additional hurricanes or severe weather events in 2023.
The price of fuels that utilities use to generate electricity is up across the globe. In 2022, the price of natural gas – which FPL uses to fuel much of its generating fleet – reached its highest point since 2008. As a result, fuel costs were significantly higher than projected when FPL set its rates for 2022. FPL is proposing to recover these additional fuel costs over a 21-month period to reduce the impact on customer bills. Partially offsetting these higher fuel costs, FPL plans to decrease its projected 2023 fuel factor by about $1 billion during the final nine months of this year due to a sharp drop in projected natural gas prices after 2023 projections were filed with the PSC in the third quarter of 2022.