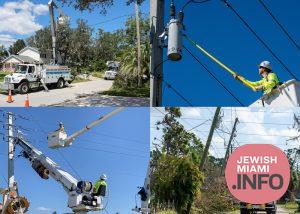 FPL Restores Power to 92% of Customers Affected by Hurricane Ian
Florida Power & Light Company is continuing its all-out effort in Southwest Florida to restore service to customers who experienced the worst of Hurricane Ian's high-end Category 4 fury.
As of 10 a.m., FPL has restored power to 92% of the approximately 2.1 million customers affected by Ian, with restoration essentially complete in all regions of the state except Southwest Florida, where Ian's 150 mph winds, unprecedented storm surge and flooding devastated many communities.
Completing restoration ahead of schedule in other parts of Florida has allowed FPL to redirect most of its workforce of 21,000 strong – including mutual assistance from 30 states – to Southwest Florida.
While FPL expects restoration to be essentially complete in Southwest Florida by Friday night, thousands of homes and businesses in the region have been so badly damaged that they may not be able to safely receive electrical service. In areas where search and rescue is still underway, FPL will begin restoration work when emergency officials say it is safe to do so.
FPL continues to work closely with emergency responders and emergency management officials to energize areas that can safely receive power. Some customers may also need to contact a licensed electrician to repair damaged, customer-owned electrical equipment like meter enclosures and weather heads in order to safely receive power.
"We know this is a time of heartbreak and loss for many Floridians and we are dedicated to helping customers get back on their feet after this devastating storm," said Eric Silagy, chairman and CEO of FPL. "Some of our customers' homes, condominiums or apartments were significantly damaged and will be unable to receive power. FPL is making financial assistance available through our FPL Care to Share® program for eligible customers who need repairs on damaged meter enclosures and weather heads before they can safely receive power."
FPL's Care to Share program is made possible by the generosity of FPL employees, shareholders and customers who donate to help individuals and families who are experiencing temporary difficulties. Eligible customers in need of repairs for damaged meter cans and weather heads in order to safely receive power can apply for financial assistance up to $1,000 at FPL.com/help, under the Apply for Hurricane Ian repairs section. Customers who want to support hurricane victims can also visit FPL.com/help to contribute to Care to Share.
Swarming hard-hit neighborhoods with massive workforce
The massive restoration effort is currently supported by 18 staging and parking sites strategically positioned for the rapid deployment of crews and equipment to help restore power faster. The number of these operating bases is down from a peak of 38 because, as FPL has completed restoration in some areas, the company has shifted resources to Southwest Florida. For example, with Volusia and Seminole counties essentially restored Tuesday, FPL moved about 1,000 restoration workers from that region to Southwest Florida.
As is historically the case, the first few days of power restoration after Hurricane Ian resulted in large numbers of customers being restored quickly when FPL energized electrical substations and main power lines serving thousands of customers. In fact, by the end of Friday – the first full day of restoration work after Ian left the state – FPL had restored power to two-thirds of customers affected by the storm. However, progress slows as crews focus on the hardest-hit areas, often contending for hours with significant tree and storm surge damage to get access to neighborhood power lines and other electrical infrastructure that serve only a handful of customers. In some of the hardest-hit areas, multiple specialized tree-trimming crews are needed to clear debris for every traditional line crew working to repair or rebuild infrastructure.