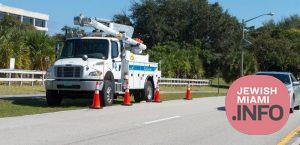 FPL Restores Service to More Than Half A Million Customers in Wake of Catastrophic Hurricane Ian
Working throughout the night and into the morning, Florida Power & Light Company (FPL) has restored power to more than half a million customers even as Ian continues its destructive path through the state.
One of the strongest hurricanes to ever make landfall in Florida, Ian remains a threat to millions of Floridians after barreling ashore Wednesday afternoon near Fort Myers as a catastrophic, high-end Category 4 storm packing sustained winds of 150 mph, torrential rain, unprecedented storm surge and tornadoes.
FPL's restoration workforce has increased to more than 20,000 men and women, including mutual assistance from 30 states, and is working around the clock to restore power to customers.
As FPL begins assessing the far-reaching damage, the company anticipates some customers will face prolonged outages because portions of the electric system in Southwest Florida will need to be rebuilt rather than repaired.
"Hurricane Ian has forever altered the lives of so many of our fellow Floridians and we recognize the road to recovery will be long and challenging," said Eric Silagy, chairman and CEO of FPL. "We understand how difficult it is to be without power and our dedicated men and women will continue to work around the clock until every customer's electricity is back on. That said, the catastrophic nature of this storm means that we may need to rebuild parts of our system in Southwest Florida, which will take time."
Damage assessment teams have already begun fanning out across FPL's service area, including dozens of drone teams scheduled to conduct numerous drone flights. Quickly putting eyes on damage enables FPL to send the right crews and the right equipment to the right places to restore power safely and as quickly as possible.
FPL has mobilized 37 staging, parking and processing sites around the state to strategically position personnel and equipment to begin restoring power as soon as it is safe to do so. FPL also has specialized crews working to clear downed trees, debris and other damage to allow lineworkers to gain access and restore service or, in some cases, begin the rebuilding process. While FPL works to restore power safely and as quickly as possible, some homes and businesses may have suffered damage that makes them unable to safely accept power.
Immediately after a storm, FPL knows if main power lines have been damaged. If customers believe their power is out for this reason, there is no need to contact FPL. Customers should call 911 or FPL at 1-800-4OUTAGE (1-800-468-8243) only to report dangerous situations such as downed power lines or sparking electrical equipment. Customers can report an outage at FPL.com/Outage or on the FPL app.
In the wake of a hurricane, FPL knows customers need as much information as possible in order to make decisions for their families. Every hurricane is different, but FPL's goal is to provide customers more accurate information faster than ever before. Outside of Southwest Florida, FPL will aim to provide its best estimates for when restoration will be completed for 95% of FPL customers affected by the storm in an area approximately 24 hours after the storm has cleared that area. This is the time the company needs to assess damage and determine the right crews and right equipment to respond.