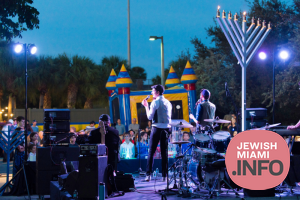 Grand Chanukah Concert & Community Festival at Chabad of Palm Beach Gardens
The first light of Chanukah was on Sunday, December 18, 2022 and Chabad of Palm Beach Gardens celebrated it with great fanfare. Over three hundred people of all ages showed up to celebrate the joy of Chanukah in the front of the Shul in the heart of Palm Beach Gardens. The event was a wonderful opportunity for our members to showcase the Chabad to their friends and family as a place which is full of life, love and laughter!
The festivities began with a plethora of children's amusements including bounce house, obstacle course, bungee-racing, balloon twisting, train and pony rides, magic shows, Chanukah crafts and face painting. The large crowd of children was constantly entertained throughout the exciting event. As the adults were socializing and enjoying the barbecue buffet, many of the men layed Tefillin, one person for the very first time in his life.
The concert began soon after, featuring "Rogers Park", a popular Hassidic folk band that plays original and classic songs in English and Hebrew. There was standing room only as the audience delighted in the sights and sounds of the Chanukah Concert! A brand new eleven-foot fully illuminated Menorah was lit by Rabbi Dovid Vigler and Cantor Leibel Krinsky as the crowd joined together to sing the blessings and traditional Chanukah songs.
One of the highlights of this delightful festival was the Menorah Contest in which over fifty beautiful Menorahs were carefully and thoughtfully produced by children in the community. Having learned about the meaning, laws and traditions of Chanukah, the children were able to experience their faith 'hands-on" as they produced creative and stunning Menorahs. Some of the most interesting Menorah creations were a "Fire Breathing Dragon Menorah" By Jonah Schwartz, "Edible Candy Menorah" by Riley Creps, a "Miniature Model of Chabad of Palm Beach Gardens Menorah" by Tzemach Krinsky, a "Giant Pink Menorah" by Sophia Sabin and Galina Saxena. Other notable Menorahs included a "World Cup Soccer Menorah", A "Dreidel Menorah", "Paris Menorah", "Menorah made entirely our of fishing hooks."
The five judges were completely unaware of the identities of the Menorah Builders. They judged each Menorah based on creativity, kosherness, beauty and effort. After a difficult contest, the judges declared the the winners to be Riley Creps in first Place, Zevi Vigler in Second Place and Drew Asher Walker in Third Place. Every child was recognized for their efforts with a medal and a prize. The Menorah Contest and the Festival was generously sponsored by a grant by Dr. Marcia Robbins-Wilf and Dr. Perry Robins.