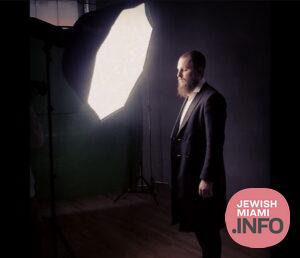 Credit: Rivka Sheradsky
Hasidic Hip Hop Artist, Moshe Reuven, Entertains Major Record Labels After Charting on Billboard
3,000 people in attendance as enters the stage a Hasid dressed in a white shirt and black kapata by the name of Moshe Reuven alongside his recent collaborator Reggae Singer, Julian Marley, the Grammy nominated son of the late Bob Marley.
Recent headlines read, "Who is this Hasidic Rapper Breaking into the Mainstream" (having been seen in Ami Magazine, The K Factor, The Jerusalem Post, Aish.com, Jewish Journal, Jewish Music FM Rolling Stones, GQ, Business Insider, and more), all without the entire Chabad community being able to turn its head in time to see, this new artist already racked up millions of streams on Spotify, a couple million fans worldwide, and gained himself his first Billboard chart. If you ask him how, he'll just say, "Boruch HaShem.. Everything comes from above." with a smile of gratitude.
His debut single, You Are Not Alone, launched towards the end of the pandemic gathering hope for myriads of people, as can be seen on his pinned Instagram post made to gear up for its launch. "I needed this, it validates how I feel!" says one commenter from Orlando. "Jusssst listened 🙂 banger" reads another comment from Jewish Rapper, Kosha Dillz. As well as statements from a youth that hearing the song saved her life.
Shortly after its launch, Moshe managed to chart on the Apple Charts in America, the UK, Canada, South Africa, & France, before in 2022 reaching a Billboard chart in America.
It wasn't much later that Create Music Group, a label that houses some of today's top artists and was named Inc. 5000's fastest growing company in California, was sending Moshe him his very first record deal. A milestone for the Orthodox Jewish Rapper garnering massive amounts of jewish music streams and downloads.
Moshe a Ba'al Teshuva (and great grandson of Viznitz Hasidim) from South Florida, bases his music on the works of Chassidus and Torah wisdom. Based in the New York, New Jersey region, he's been doing shows as large as 5,000 people strong, and even sold out a show he was added to in Upper East Side Manhattan a couple months ago just two days before the concert (pre-hanukkah). He's transformed his life from being a bit of a partier in high school to a fully observant Chabad success story with Smicha (ordained as a Rabbi) from the Rabbinical College of America. Although, openly describing his personal experiences leading him to today in his music, he says "I've made my music in a way that interweaves my personal experience with what we learn in Torah. I believe music is