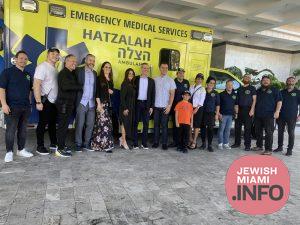 Hatzalah of South Florida Receives Donation of Brand New Ambulance
by JewishMiami.info
It was a special 80th birthday gift, a gift of life to many.
At a special birthday celebration for Eleanor Paul's 80th birthday, her family and friends joined together in donating SF-908, Hatzalah of South Florida's newest Ambulance.
"Today we celebrated a special 80th birthday on "Eleanor Paul Day" in Miami Beach," Miami Beach Commissioner Steven Meiner wrote on social media. "Celebrating with family and friends, Eleanor and her family honored the occasion by donating an ambulance to Hatzalah South Florida, an all volunteer ambulance service."
The celebration was also joined by City of Miami Beach Commissioner Alex Fernandez, who proclaimed October 22nd, 2022 as "Eleanor Paul Day", and noted the special moment surrounded by her beautiful family of 5 children, 27 grandchildren, 28 great grandchildren.
The newly donated ambulance is fully stocked and ready to head into service. It will be providing life saving service to the thirteen communities now services by Hatzalah of South Florida.