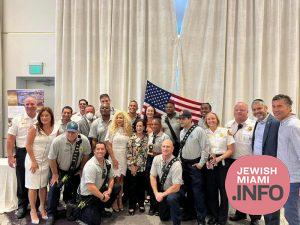 Hatzalah of South Florida Recognized In The Aventura Chamber of Commerce
by JewishMiami.info
The Aventura Marketing Council/Chamber of Commerce held a breakfast Wednesday morning to as a "Salute to Fire Rescue", recognizing the efforts of heroic men and women who go above and beyond to serve their community.
Recognized at the event was Hatzalah of South Florida, with particular mention of Mendy Hassan, a volunteer who was awarded for his efforts in building Hatzalah's medical supply room and transforming how they operate across South Florida.
"We are thankful for the recognition we received this morning by the Aventura Chamber of Commerce together with other local Fire Department agencies," Hatzalah of South Florida wrote on Social Media, noting their expansion across the South Florida Jewish communities and Hassan's important work.