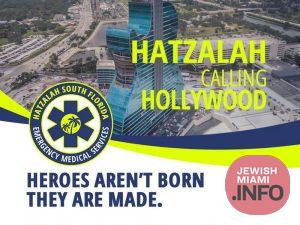 Hollywood Division Of Hatzalah Begins Transporting Patients
by JewishMiami.info
Heroes aren't born, they are made.
The Hollywood Division of Hatzalah of South Florida has officially begun transporting patients, a massive step for the organization as it "gets into gear" as a transporting EMS agency.
With a fully equipped ambulance stationed at the Aish Shul on N 46th Ave, the Hatzalah volunteers are now providing care from the scene of the emergency to the Emergency Room.
The incredible first comes just months after Governor DeSantis signed a bill allowing volunteer Emergency Medical Services to transport patients to a hospital, something that was previously unheard of in Florida.
With this new development, Hollywood Hatzalah is making a push to recruit more volunteers, including EMT's, Paramedics, and Dispatchers.
If you are interested in giving back to your community and joining Hatzalah of South Florida, email info@hsfems.org.