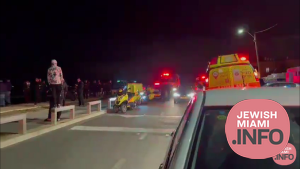 UPDATE: IDF Helicopter Crashes Off the Coast of Haifa, Crew Members Rescued
An IDF Atalef-type helicopter crashed on Monday evening off the shores of the city of Haifa.
Three crew members were on the helicopter, one of whom was rescued and evacuated in moderate condition to Rambam Hospital. Two other fighters were rescued after two hours of searching, and their condition is unknown at this time.
Rescue crews and rescue workers were called to the site of the crash.
Read More at israelnationalnews
Update: The two other soldiers who were recovered at the crash site have been identified as having passed away in the crash.