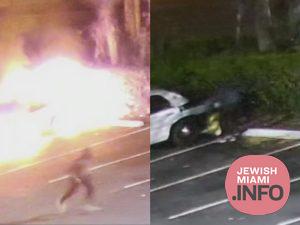 Inverarry Chabad Police Car Arsonist Arrested and Identified
by JewishMiami.info
The man who intentionally set fire to a Lauderhill Police car parked outside of Chabad of Inverarry has been arrested and identified by police.
Brian Bocage, 21, was taken into custody Thursday and was charged with six counts, including second degree arson and criminal mischief.
The Lauderhill Police Cruiser had been parked as a deterrent outside the Chabad Shul on NW 44th St. At around 12:15am, Bocage can be seen of the shuls surveillance cameras dousing the car with fuel before setting it on fire.
Bocage, who videoed his acts and posted them to Instagram, is being held without bond.