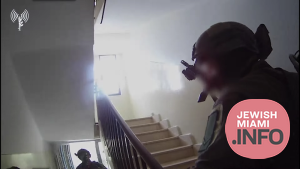 ISRAEL: Three Terrorists Eliminated En Route to Terror Attack
During an arrest operation in Jenin, three Islamic Jihad terrorists were eliminated.
The IDF, Border Police's Yamam unit, and Israel Security Agency (Shabak) carried out a joint arrest operation, during which a shootout developed, leaving Chief Superintendent S. severely injured, and three other fighters lightly and moderately injured.
Around 1:00a.m. Saturday morning, information was received from Shabak regarding the whereabouts of the cell, which at the time was traveling by car from Jenin to Tulkarem. According to one estimate, the cell intended to carry out a large terror attack, possibly similar to the massacre in Itamar in 2011.
Around 1:30, Yamam forces located the cell and while they attempted to carry out the arrests, the terrorists opened fire. The Yamam forces responded with their own fire, eliminating the three terrorists.
Read More at israelnationalnews