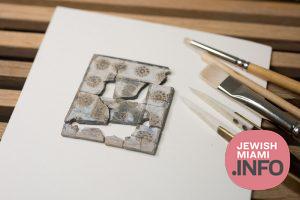 Israeli Archeologists Unearth Find From the First Beis Hamikdash Period
An extraordinary discovery was unearthed in Jerusalem: an assemblage of ivory plaques from the First Temple period, among the few found anywhere in the world, and the first of their kind to be found in Jerusalem.
The ivories were not the only prestigious items discovered at the site. An agate stone seal was also unearthed, as well as a seal impression bearing the name "Natan-Melech, servant of the king."
Scholars believe that the decorated ivories were inlaid in wooden furniture that was owned by the residents – people of means, influence and power, possibly high government officials or priests. The decorations on most of the ivories were similar, comprising frames incised with rosettes in the center of which was a stylized tree.
According to Dr. Ido Koch and Reli Avisar of Tel Aviv University, who studied the ivories, the rosette and the tree were popular symbols in the Mesopotamian culture. Interestingly, both these symbols appeared at this time on stone architectural elements that adorned opulent buildings in the Kingdom of Judah.
According to the excavation directors, Prof. Yuval Gadot of Tel Aviv University's Department of Archaeology and Near Eastern Cultures and Dr. Yiftah Shalev of the Israel Antiquities Authority: "We were already aware of Jerusalem's importance and centrality in the region in the First Temple period, but the new finds illustrate just how important Jerusalem was, and the new finds place it in the same league as the capital cities of Assyria and the Kingdom of Israel. The discovery of the ivories is a step forward in understanding the political and economic status of the city as part of international administration and economy."
They add, "Moreover, it is possible that we have here evidence of a cultural choice by the Jerusalem upper class regarding which elite symbols to adopt and which to reject.