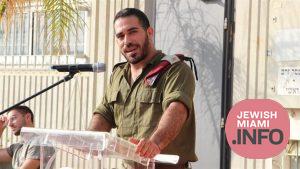 Israeli Soldier Killed During Gunfight With Terrorists Near Jenin
The Israeli army on Wednesday identified the IDF officer killed during a gun battle with Palestinian Arab terrorists overnight in northern Samaria.
According to an IDF spokesperson, the officer was 30-year-old Major Bar Falah, a resident of the coastal city of Netanya. Falah served as deputy commander of the IDF's Reconnaissance Battalion 934 (Gadsar Nahal).
The shootout occurred at the Jalameh checkpoint, near Jenin in northern Samaria, just before midnight the IDF Spokesperson's Unit said.
Read More at israelnationalnews