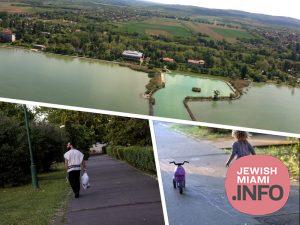 Jewish Ukranian Refugee Village Opens on Hungary's Balaton Lake
More than 600 Ukrainian refugees will be given long-term accommodations at a newly opened kosher camp on the South shore of Hungary's Lake Balaton, thanks a joint effort by EMIH, the Association of Hungarian Jewish Communities, and the Federation of Jewish Communities of Ukraine. With assistance from the Hungarian government, the two Jewish organizations renovated several buildings at the 180,000 square meter lakeside resort, which is no longer in use.
In April, the Federation of Jewish Communities of Ukraine and EMIH approached the Hungarian government with a request to help set up a camp for several hundred Ukrainian Jews who required kosher food. These organizations saw a need to create both a long-term residence and a temporary living space especially for families whose male members were left behind in Ukraine. And since many refugee shelters that were set up during the first weeks of the war had already closed down, there was an urgent need for accommodations for refugees who wished to return home after the war, namely many religious leaders from more than 100 Ukrainian Jewish communities.
"A crisis of this magnitude has not been seen in Eastern Europe since the Second World War," said Rabbi Shlomó Köves, Chief Rabbi of EMIH, "During times like this we, the Jewish community of Hungary, consider it our special and sacred duty to reach out and offer whatever assistance is necessary to meet the existential and spiritual needs of our fellow Jews from across the border."
The Hungarian government provided the resort at Balatonőszöd, but it could only house 250 people who live there now. The two organizations, both affiliated with the Chabad-Lubavitch movement, set up "Machne Chabad." Together, they are renovating the existing, but long disused site, with plans to expand accommodations for 644 people, adding several communal areas, including a kosher kitchen that will cater up to 1000 people, and classrooms for children to continue their studies.
The Chabad movement considers aiding their fellow man to be an essential value. As such, a fundraising campaign is underway to meet the costs of the feeding the refugees, estimated at $30 per person, per day, and the expansion, estimated at $1,421,437 (€1,346,000, or HUF 540 million.) A website has been set up with more information about the camp.
Daniela has fled the city of Berdyansk, currently occupied by Russians: "It was an arduous path out of Berdyansk. There were a lot of Russian checkpoints on the way to (Ukrainian controlled) Zaporizhia. Russian soldiers entered the buses every 10 minutes, pointed weapons at people. They pointed a rifle directly at my child's face. We got to Dnipro Jewish Community and they helped us to come here, to Hungary. We feel safe here."
Rabbi Meir Stambler, leader of the Federation of Jewish Communities of Ukraine, says he is appealing to American and Western European donors for contributions to help renovate the camp. "Until a few months ago, our Ukrainian brothers and sisters lived a perfectly normal life, safe in the present, and with plans for the future; with homes, families, jobs and education," said Rabbi Stambler." All of that fell to pieces in just one day, with people losing their homes, their loved ones, and their safety."
"When we help our fellow man in times of need, we are actually bringing justice to an unjust world," added Rabbi Köves.
Photo Credit: Bettina Almássy