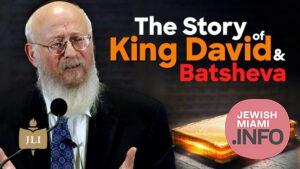 JLI: The Most Problematic Story in the Bible
Delve into the intricate tale of King David's encounter with Bathsheba and the complex moral questions it raises. Join us in this enlightening presentation as we explore the deeper layers of this biblical story, uncovering how David's destiny intertwined with his choices and God's plan.
Discover how David's response to his mistakes highlights the power of repentance and the transformative potential of embracing adversity. Gain insights into the intricate relationship between free will and divine knowledge, and see how this story resonates with timeless lessons applicable to our lives today. Explore the enigma of King David's journey, his humility, and the remarkable example he sets for us all.
This lecture was delivered at the 16th annual National Jewish Retreat by Rabbi Chaim Block. For more information and to register for the next retreat, visit: https://jretreat.com