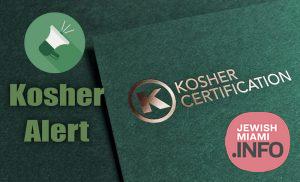 KOSHER ALERT: Product Mistakenly Labeled Kosher For Pesach
A limited quantity of Dole's Creamy Coleslaw Kit was mistakenly labeled with the OK P symbol.
While the cabbage/salad is approved for Passover, the enclosed sealed dressing packet is NOT approved for Passover.
Please be reminded that Dole products are only OK certified when bearing the OK symbol ink-jetted on the bags per approved batch.
Only bags ink-jetted with the OK P symbol are certified for Passover.
Action: Corrective actions are being taken.