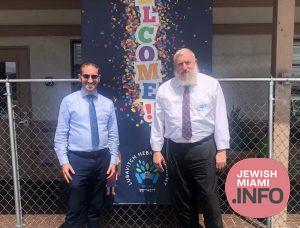 Lubavitch Hebrew Academy Welcomes New General Studies Principal
by JewishMiami.info
Lubavitch Hebrew Academy of Margate has announced the hiring of a new General Studies principal for the upcoming school year.
"We are excited to announce the appointment of Rabbi Bossewitch as the new Principal of General Studies for the upcoming 2022-2023 school year," the school wrote on Instagram.
Rabbi Bossewitch brings with him a wealth of experience and professional expertise in educational leadership and innovation. Following ten years at Hebrew Academy Miami (RASG) as the Inaugural Dean of Academics and Innovation, and his previous role as the Middle School Director at Maimonides School in Brookline, MA, Rabbi Bossewitch will be completing his doctorate in Jewish Educational Leadership and Innovation at the Azrieli Graduate School with a focus on positive psychology.
"We look forward enthusiastically to the new initiatives and energetic direction Rabbi Bossewitch will bring to the LHA family," the school wrote.
"I am thrilled to be joining Lubavitch Hebrew Academy," Rabbi Bossewitch wrote in a statement. "All of the people I met including students, staff and search committee members, exuded a contagious warmth coupled with a commitment towards excellence. I am especially grateful to the search committee, Dr. Botwinick, and Rabbi and Mrs. Denburg for their kindness and professionalism throughout the process. I look forward to contributing to this illustrious institution, helping to create global leaders and nurturing the next generation of Am Yisrael."
The school extended a sincere Thank You to the search committee, staff, parents, and administrators who took part in the interview process.