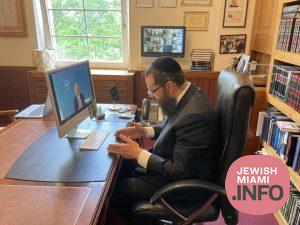 Lufthansa CEO Apologizes for Anti-Semitic Incident in Video Call with Rabbi Teichtal
In a video conference with Rabbi Yehuda Teichtal, CEO Carsten Spohr apologized for the incident at Lufthansa. "Anti-Semitism has no place at Lufthansa. The actions last Wednesday should not have happened like this and must now be fully clarified."
Lufthansa stands for connecting people, cultures and nations, he said. Openness and tolerance are the cornerstones and there is no place for anti-Semitism, said Carsten Spohr.
"If an employee in Lufthansa uniform acts wrongly, concerns and accusations of anti-Semitism are quite legitimate. More sensitivity may be expected from a German corporation" says Yehuda Teichtal, Rabbi of Berlin. "I am pleased that the CEO of Lufthansa reacted so quickly, took a clear position and apologized."
A joint awareness training for Lufthansa will soon take place.