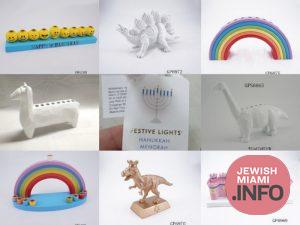 Menorah Sold at Marshalls, HomeGoods, and Homesense Stores Recalled Due to Fire Hazard
by JewishMiami.info
A Menorah sold by Marshalls, HomeGoods, and Homesense Stores is now under official recall after it was discovered that the resin and medium-density fiberboard ("MDF") menorahs can burn or catch fire when holding lit candles.
The recall effects some 7,900 units which come in different shapes, including llama, brontosaurus, stegosaurus, T-rex, castle, rainbow, rainbow platform and emojis.
The menorahs were sold with a white hangtag with an image of a blue and silver menorah and the following text: "FESTIVE LIGHTS HANUKKAH MENORAH." One of the following style numbers is printed on the label on the bottom of the menorahs: 262933, 263407, 263417, 262950, 856166, 856168, 856179, 856182, 856189, 856192, 856262, 856266.
Consumers who have purchased these menorahs should immediately stop using hem and return them to any Marshalls, HomeGoods, or Homesense stores for their choice of either a full refund or a refund in the form of a store gift card. Consumers can also contact the stores for instructions to submit photographic proof of appropriate disposal to receive either a full refund or refund in the form of a store gift card.
To date, three reports have surfaced of these menorahs catching fire when holding lit candles. No injuries or serious damage have been reported.