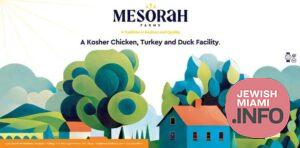 Mesorah Farm To Alleviate Strictly Kosher Poultry Shortage
A group of investors has announced the acquisition of Birdsboro Kosher Poultry Farms, the poultry plant known for raising chickens without antibiotics in line with strict kosher standards. The move comes with the intent of significantly upgrading the supply and quality of strictly kosher chickens.
The company and its products will now be known as Mesorah Farm and will be follow "a tradition of kashrus and quality." Mesorah will be under the strict kosher supervision of the highly regarded Central Rabbinical Congress (CRC) and the Orthodox Union (OU).
The acquisition comes at a critical time for the rapidly growing strictly kosher community as concern was mounting about having an adequate supply for the upcoming Pesach season.
"This is news that the kosher community was hoping and waiting for," said Menachem Bruk, a veteran in the management of kosher poultry plants across the US. "It is gratifying to see that a group of investors not only saw the urgent need for creating the Mesorah brand but have every intention of investing capital to upgrade kashrus standards, quality and scope of the products," he said.
Mr. Bruk has put together a highly experienced team to manage production while insuring the lofty standards of the kashrus authorities at the plant. "These are people with many years of experience in the field," the manager of Mesorah pointed out. The news of the acquisition was greeted with a great deal of satisfaction by the kosher industry, which has been experiencing periodic shortages. "Our community is very much dedicated to providing high standards both in kashrus and quality, and that is exactly what Mesorah intends to deliver," said Mr. Bruk.
Industry officials stressed the difficulty of locating farms that are equipped for kosher production which makes the acquisition and upgrading of the Birdsboro plant such a critical move for kosher consumers. Kosher experts also pointed out that the Mesorah brand will fill a need to serve the rapidly growing demographic of strictly kosher consumers in communities all over America.