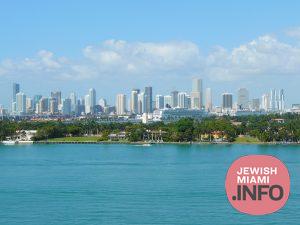 Miami-Dade County and Municipalities Receive over $2.5 Million for Resilience Planning from the State of Florida
On May 3, Miami-Dade County and its surrounding cities and municipalities received over $2.5 million in funding from the Resilient Florida Grant Program. The grants, announced by Florida Governor Ron DeSantis, will go to support ongoing resiliency planning in the region.
Of the 98 grants awarded statewide, 16 were awarded within Miami-Dade County. In total, $2.5 million was awarded to the region and $310,000 were awarded directly to Miami-Dade County.
The two County resilience projects funded were the Office of Resilience's Adaptation Action Area Planning in Areas Vulnerable to Sea Level Rise in Miami-Dade County and PortMiami's sea level study, vulnerability assessment, and adaption plan for the Port.
These assessments are critical in identifying infrastructure at risk of flooding from increased sea level rise, storm surge and rainfall events, and helping inform implementation strategies designed to reduce or mitigate the effects of flooding.
The announcement came following Mayor Daniella Levine Cava's recent testimony in front of the United States House of Representatives Committee on Science, Space, and Technology and a keynote address on climate adaptation before the United Nations.
"I'm proud the state has recognized Miami-Dade County for our leadership in resilience planning and implementation," said Mayor Levine Cava. "We know that taking climate action is critical, and that by investing in resilience projects we are protecting our residents and their livelihoods while strengthening our local economy by creating more jobs."
The grants awarded to Miami-Dade and its municipalities represent the ongoing fulfillment of the commitment Mayor Levine Cava, the Board of County Commissioners, and the Resilient305 partnership have made to ensure the region has the necessary resources to build a more resilient future.
Miami-Dade County continues to seek support for other key resilience initiatives such as protecting our water and sewer assets from storms and sea level rise, land acquisition, and restoration of natural areas.