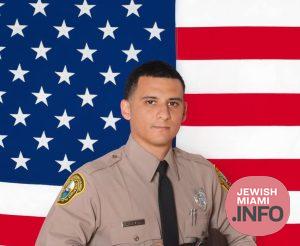 Miami-Dade Police Detective Shot While on Duty Dies Of His Wounds
by JewishMiami.info
A Miami-Dade Police Detective who was shot while on duty this week has passed away, throwing the department into mourning.
Department Director Alfredo "Freddy" Ramirez III notified the community of the detectives passing, writing "It is with great sadness and heavy hearts that we announce the untimely passing of Officer Cesar "Echy" Echaverry. Surrounded by loved ones, Echy succumbed to his injuries after a brief battle for his life.
Officer Echaverry died in the line of duty while serving and protecting our community."
As previously reported on JewishMiami.info, Echaverry had been following a suspect when the car they were following crashed. The suspect then began firing at the officers, striking Echaverry in the head.
Echaverry was rushed to the hospital where he remained in critical condition until last night, when he passed away.
"Our law enforcement family will continue to stand beside and support the Echaverry family through this difficult time," Ramirez said. "We'll never forget Officer Echaverry's bravery and sacrifice."
The suspect who shot Echaverry was also shot and died at the scene.
Miami-Dade County Mayor Daniella Levine Cava voiced her heartbreak over the Detectives passing.
"I am heartbroken to learn of Detective Cesar Echaverry's death," she wrote. "He laid down his life to stop a violent criminal, and we will be forever grateful for his selfless service and sacrifice to our community. Echy, as he was lovingly known to his police family, will be remembered always for his courage, his sense of duty, and his unwavering dedication to keeping our residents safe."