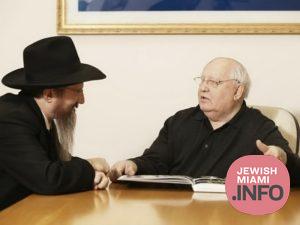 Michael Gorbachev, Soviet Leader Who Ended The Cold War Dead at Age 92
Michael Gorbachev, the final leader of the Soviet Union who ended the cold war and brought down the Iron Curtain has passed away in Russia at the age of 92.
Gorbachev was born in Privolnoye, Stavropol Krai, to a poor peasant family of Russian and Ukrainian heritage. Growing up under the rule of Joseph Stalin, in his youth he operated combine harvesters on a collective farm before joining the Communist Party.
In 1978, he become a Secretary of the party's Central Committee, and in 1979 joined its governing Politburo. Within three years of the death of Soviet leader Leonid Brezhnev, following the brief regimes of Yuri Andropov and Konstantin Chernenko, the Politburo elected Gorbachev as General Secretary, the de facto head of government, in 1985.
Although committed to preserving the Soviet state and to its socialist ideals, Gorbachev believed significant reform was necessary, particularly after the 1986 Chernobyl disaster. He withdrew from the Soviet–Afghan War and embarked on summits with United States president Ronald Reagan to limit nuclear weapons and end the Cold War.
Considered by many to be a reformist, he was named a friend of Russian Jewry, and had met with Chief Rabbi of Russia, the Rabbi Berel Lazar.
Photo Credit: Mevaser Tov Moscow