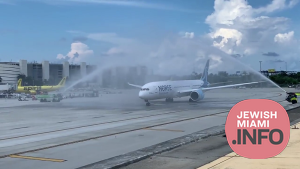 New Airline Begins Flights Out of Fort Lauderdale Airport
by JewishMiami.info
Looking to fly to the Nordic countries? There's and airline for that.
Norse Atlantic Airways inaugurated it's new Fort Lauderdale to Oslo, Norway route at a ceremony held at the South Florida Airport this week.
"Proud to join @FLLFlyer and @flynorse to celebrate the inaugural flight service from #FLL to Oslo, Norway," the Mayor of Broward County Michael Udine said. "As the tourism industry rebounds, @BrowardCounty is increasing flight options and continues to provide great service for the traveling public. Congrats and welcome to FLL!"
The new non-stop flights are scheduled three times a week, leaving from Fort Lauderdale's Terminal 4.