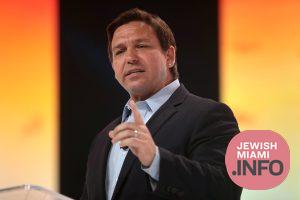 New Florida Law Requires Financial Literacy Course For High School Diploma
Today, Governor Ron DeSantis signed Senate Bill 1054, titled the Dorothy L. Hukill Financial Literacy Act, which will require high school students to take a financial literacy course to receive a standard high school diploma. The legislation will officially become a graduation requirement for students who enter high school in the 2023-2024 school year and will not affect students currently enrolled in high school.
"Financial literacy is an important life skill for a student to have," said Governor Ron DeSantis. "Ensuring our students have the skills to manage their finances and perhaps one day own a business will pay dividends for our state. I am proud to sign this bill to support the future of Florida's students and ultimately their families and communities."
Students will be required to earn one-half credit in personal financial literacy and money management, including instruction on types of bank accounts, credit scores, taxes, and managing debt. Due to the economic challenges currently facing the nation, SB 1054 will help prepare students by providing them with the knowledge to achieve financial stability and independence.
This legislation builds on Commissioner Corcoran's work to eliminate Common Core and implement B.E.S.T. Standards for Math, standards that now embed financial literacy strands in ninth through 12th grades. Common Core did not include financial literacy for any grade level and this legislation will solidify Florida's comprehensive commitment to our students' future success.
"It is never too early to start changing lives," said Aimee Nadow, a Teacher at Innovation Preparatory Academy. "We have lots of projects in our class that incorporate very important financial education and literacy and vocabulary that kids need to know. We have done a quick start budget, how to invest, students are learning a little about crypto and the real estate industry. I think this is very important and I am very excited to continue building the curriculum that we have and sharing that with other educators." This legislation builds on a long list of achievements in education that Florida has made since 2019: 
Florida has already risen to third in the nation, again, for K-12 education according to Education Week. Florida eradicated Common Core and did so by elevating the quality and alignment of learning opportunities through creating Florida's B.E.S.T. (Benchmarks for Excellent Student Thinking) Standards.
Governor DeSantis, Commissioner Richard Corcoran, and the Legislature have continually secured the highest ever K-12 public school and per-pupil spending totals in Florida's history.
Marking the last few years as "The Year of the Teacher," Governor DeSantis has elevated Florida as one of the top states in the nation in terms of starting teacher pay by securing approximately $2 billion in pay increases and bonuses for teachers over the last three years.
With Commissioner Corcoran, Governor DeSantis provided a roadmap to make Florida's standards number one in the nation, streamlined testing, and massively invested in early learning, literacy, and civics education like no other state in the nation.
Florida was the first state in the nation to reopen schools in August 2020 and guarantee families had an in-person instructional option five days a week.