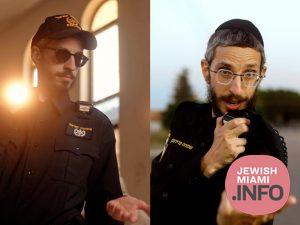 New Hit of the Israeli 'Policeman' Simche Friedman
After months of hard and intense work, the new and talked-about single-clip of the Hasidic singer Simche Friedman – "Bo Lepo (come here)" – is released today.
Friedman constantly produces songs in a variety of different styles and genres and does not shy away from going in new directions, which ultimately create a lot of interest in today's Hasidic music.
After the last singles he released in a Hasidic style such as "Roeh Echod" and the Chabad "Nigun Simcha", today Friedman releases what appears to be a strong hit – "Bo Lepo" – in an electronic, rhythmic, energetic and up-to-date style.
The new song was written by Friedman together with Yaakov Menashe who composed the song and even appears in the music video as a guest performer (look for him!).
The arrangement was signed by Elia Netaneli, a young and promising arranger, who gave his own refreshing interpretation to the song and turned it into a hit that will continue to play in your ears during the coming summer.
Along with the song, an invested and entertaining video clip is released. Rabbi Yoel Baitch is responsible for the script, and Yanki Elharar, who has signed quality productions and prestigious music videos in the Hasidic music industry, was entrusted with the direction, Video shooting and editing.
In the clip Friedman appears as a policeman, probably because the words "Bo Lepo – (come here)" automatically create a connotation of something threatening. But in the end the threat turns into a song, the fear into a smile, and the end result? – you will soon see for yourself!…
"Bo Lepo" – the hit of the summer is already here, and all you have to do is press play. We promise you that right after the first viewing you won't be able to stop humming the chorus!