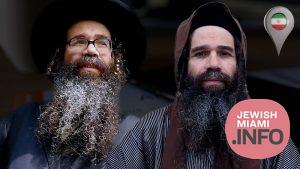 New Leaked Audio Exposes Lev Tahor Lies and Manipulation
A new short film released by Lev Tahor Survivors contains leaked audio and video proving that the Lev Tahor cult has been using lies and manipulation to fool Orthodox Jewish supporters and the government of Canada.
Uriel Goldman has raised millions of dollars to fund Lev Tahor, a cult that has been accused of child abuse and neglect, whose leaders are in prison on charges of kidnapping and child exploitation. The cult has continued to thrive following the death of its leader Shlomo Helbrans and the one constant driver managing the fundraising, abuse, and media representation is Uriel Goldman.
In the newly released video, Yoel Levy, a Lev Tahor survivor, exposes Goldman's method of telling people what they want to hear, including numerous outright lies, via leaked audio and video.
Yoel meets another cult survivor, Yaniv Assis, today a respected teacher in a Hasidic school in Jerusalem, who recalls that the cult operated as "organized crime."
Levy then compares Uriel Goldman to the "head of a mafia," using leaked footage of Lev Tahor members celebrating Yom Ha'atzmaut with an ultra-Zionist supporter and contrasting it with claims in the media of being anti-Zionist.
In another leaked clip – this from a recorded Zoom meeting, Goldman claims that the cult has never forced anyone under 13 into marriages, contradicting court and media statements stating that 16 was their minimum age for marriage.
He also exposes a lie that fooled the government of Canada into giving former cult leader Shlomo Helbrans refugee status from the state of Israel.
After proving that the refugee status was built around sworn attestations by Goldman that he had been a member of Israeli intelligence sent to Lev Tahor to spy on Helbrans, the video plays leaked audio from a phone call with an Iranian official in which Goldman admitted, "because they're doing so many lies against us, so I made also."
The short film comes as brother Shmiel and Yoel Weingarten arrive in New York after being extradited by Guatemala following a July 2021 raid on their remote compound near Oratorio.
The brothers are being accused of child kidnapping, abuse, and exploitation.