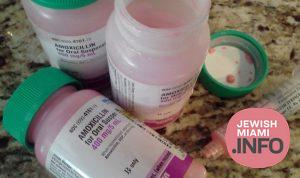 New Medication Shortage Has Amoxicillin On Short Supply
by JewishMiami.info
Amoxicillin, one of the most commonly used antibiotics for children, is suddenly on short supply, and it may mean a headache for many parents.
The shortage of the antibiotic, used for many regularly seen bacterial infections such as Strep throat and ear infections, was becoming apparent last week in certain areas of the US, and was officially announced by the FDA last Thursday.
Reports of the shortage began as parents, armed with prescriptions for the liquid medication, were suddenly unable to fill them in their local CVS pharmacies, and were being told that they were not sure when they would again get them in.
The major producers of Amoxicillin, including Teva Pharmaceuticals, are all reporting the shortage and citing high demand for one of its major causes.
A recent spike in respiratory illnesses in children may be a contributing factor for the sudden increase in demand.
But all is not lost and the shortage itself may not lead to a lack of care, as there are many other available antibiotics out there, with some pediatricians already regularly prescribing alternatives as a front line treatment for the common bacterial infections.