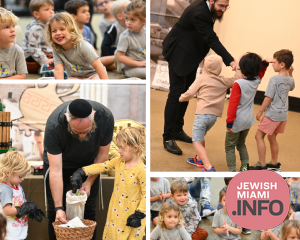 Olive Press Workshop for 80 Preschool Children
At Chabad of Palm Beach Gardens Hebrew School, Jewish Education is fun!
On Friday December 23, we brought the model olive press and Chanukah workshop to 80 preschool children at the Mandel JCC, early childhood center.
The children got to learn about the significance and depth of our treasured Jewish holiday in the most memorable and fun way. They were enthralled by a captivating and exciting Chanukah presentation where they got to learn hands on about the history of the dreidel, the menorah and how to crush olives and make the purest olive oil.
Our interactive Jewish workshops bring engaging and memorable Jewish education and pride to the thousands of Jewish children in Palm Beach Gardens, some of which do not have any other Jewish interaction at all.
To find out more about Chabad Hebrew School and our interactive Jewish workshops contact Rabbi Yisroel Uzvolk at 561 624 2223 ext 8 or Youth@JewishGardens.com.