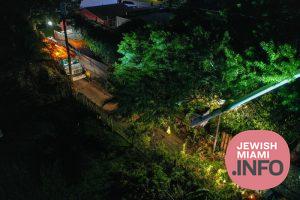 Over 50% of Customers Restored as FPL Begins 1st Full Day of Restoration
More than 1 million Florida Power & Light Company customers – just over 50% of those affected by Hurricane Ian – have already been restored as FPL today begins the first full day of restoration work after the devastating storm exited Florida.
One of the most powerful hurricanes to ever make landfall in Florida, Hurricane Ian battered FPL's peninsular service area for more than 72 hours and unleashed catastrophic winds, unprecedented storm surge, significant flooding and numerous tornadoes.
Even as Ian churned through the state, FPL's restoration workforce of nearly 21,000 men and women – including mutual assistance from 30 states – worked around the clock to safely restore service. As of 7 a.m., FPL has restored service to more than 1 million customers, and remains focused on restoring the more than 980,000 customers currently without power, prioritizing its immediate efforts on critical infrastructure functions that serve community needs, such as hospitals and 911 centers.
"Hurricane Ian will go down as one of the most destructive and powerful hurricanes to ever hit our state – having forever changed the lives of so many of our neighbors," said Eric Silagy, chairman and CEO of FPL. "Getting the lights back on after such a destructive storm is no small task, but it's a challenge we've planned and trained for with an army of workers. Rest assured, we will not stop until every last customer is restored."
In addition to the crews who have restored power where possible to more than 1 million customers, damage assessment teams are blanketing FPL's service area to determine the extent of the damage. FPLAir One – the company's fixed-wing drone – is scheduled to conduct its first mission today to surveil the extensive damage across inaccessible communities in Southwest Florida. This information is essential for FPL to determine the right crews and the right equipment to send to the right places to restore power safely and as quickly as possible.
Initial assessments conducted Thursday showed FPL's transmission system – which carries high-voltage electricity from power plants to substations and is the backbone of any electrical system – survived Ian without losing a single transmission structure.
"Since the destructive 2004 and 2005 hurricane seasons, we've invested significantly in our system to make it stronger, smarter and more resilient to storms like Hurricane Ian," Silagy said. "While no energy grid is hurricane-proof, not losing a single transmission structure is remarkable given the size and strength of this monster storm."
Hurricane Ian barreled ashore Wednesday afternoon near Fort Myers as a catastrophic, high-end Category 4 storm packing sustained winds of 150 mph. Even after the center of the storm pulled off Florida's east coast near Melbourne Thursday afternoon, outer bands pounded the coastline into the overnight hours. From the onset of feeder bands Tuesday morning, Florida endured more than 72 hours of Ian's wrath before it exited the state and curved northward toward the Carolinas.
FPL has now mobilized 38 staging, parking and processing sites around the state to strategically position personnel and equipment for the restoration effort. Specialized crews are working to clear downed trees and debris in roadways to allow lineworkers to gain access to restore power.
Restoration estimates
In the wake of a hurricane, FPL knows customers need as much information as possible in order to make decisions for their families. Every hurricane is different, but FPL's goal is to provide customers more accurate information faster than ever before. Where possible, the company aims to provide an estimate of when service will be restored to 95% of customers in an area within 24 hours of a storm leaving that area.
Southeast Florida:
Power has essentially been restored to Southeast Florida, which was hit by Ian's feeder bands for 36 hours.
Treasure Coast, Central Florida and North Florida:
As Ian slowly moved inland and cut through the state at hurricane strength, it pounded areas with torrential rain and damaging winds. Some areas along Florida's east coast, particularly Volusia County, are inundated with flood water due to the rainfall. As crews work around the clock to safely restore power where possible, FPL also continues to fully assess damage along Florida's Treasure Coast, Central Florida and North Florida, and expects to be able to provide estimated times of restoration Friday evening.
Southwest Florida:
The assessment process will take longer in Southwest Florida because crews are hampered by extensive flooding, storm surge, downed trees and other debris in the area and roadways. Because of the conditions in Southwest Florida, FPL anticipates many customers will face prolonged outages in some areas. Many homes and businesses may have suffered extensive damage that makes them unable to safely accept power.
Immediately after a storm, FPL knows if main power lines have been damaged. If customers believe their power is out for this reason, there is no need to contact FPL. Customers should call 911 or FPL at 1-800-4OUTAGE (1-800-468-8243) only to report dangerous situations such as downed power lines or sparking electrical equipment. Customers can report an outage at FPL.com/Outage or on the FPL app.
Be certain your home or business is ready to receive power
While FPL works to restore power safely and as quickly as possible, some homes and businesses may have suffered damage that makes them unable to safely accept power. If the power is on next door but yours is not, make certain that your home or business is ready to receive it by checking the connection to FPL.
Look at the meter, the box that holds it and connected pipes and wires on the wall of the building.
If the meter box, pipes or wires are bent or broken, repairs may be needed before FPL can restore power. If it looks damaged, contact a licensed electrician. Do not touch damaged equipment.
If the meter itself is damaged, restoration personnel will replace it.
If your home has water damage from leaks or flooding, water may come into contact with electrical wiring:
Use caution when disconnecting electric appliances that are still plugged in. Don't stand in water when operating switches, plugging in or unplugging electrical cords.
When resetting circuit breakers, wear dry, rubber-soled shoes and stand on something dry and non-conductive, such as a dry piece of wood or wooden furniture.
If you have any doubts about your home's electric system or are unsure of how to proceed, call a professional, licensed electrician.
In a flooded home, battery-powered lighting is the safest lighting source. Use flashlights when inspecting a home for possible damage.